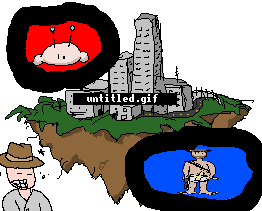 Welcome all! All who arrive here have found untitled.gif!
News Flash: NUCLEAR-ARTEMIS WAXILY PRAYS AND DRIVES AND LASER THINKS
The purpose of the Armenian Equality Faction is to take vengence upon Consulate d'Justice Mexicano! They have tricked our settlers for the last time!
---
The heading is correct! I encourage you to bask in the glory of these pages, in their untitled goodness! WARNING: basking costs extra.
---

It would be unorthodox for us to make these comics available, without linking to our better developed inspiration, made by not us:
Pokey the penguin.

Actually, I change my mind! Pokey, I am suing you! You are stealing the train of my ideas, using metaphorical locomotive bandits! PAY!

Actually, I AM JUST KIDDANG!!! POKEY, be my FRIEND!!! DO NOT PAY!!!
---
Copyright 1999/2000/2001/2002/2003/2004/2005 FreeSoftwareFoundation and Tobot.
Unlimited Reproduction prohibited.
Void where permitted.
This is end!