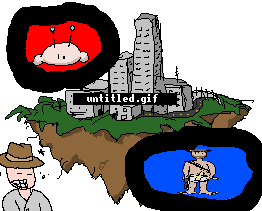 Welcome all! All who arrive here have found untitled.gif!
News Flash: CEREAL!!!!!!!!!!!!!!
The purpose of the Korean Equality Congress is to destroy Armenian Profitability Faction!
---
The heading is correct! I encourage you to bask in the glory of these pages, in their untitled goodness! WARNING: basking costs extra.
---

It would be unorthodox for us to make these comics available, without linking to our better developed inspiration, made by not us:
Pokey the penguin.

Actually, I change my mind! Pokey, I am suing you! You are stealing the train of my ideas, using metaphorical locomotive bandits! PAY!

Actually, I AM JUST KIDDANG!!! POKEY, be my FRIEND!!! DO NOT PAY!!!
---
Copyright 1999/2000/2001/2002/2003/2004/2005 FreeSoftwareFoundation and Tobot.
Unlimited Reproduction prohibited.
Void where permitted.
This is end!